Give your discarded clothes another chance.
Have you finished your summer cleaning, throwing way unwanted clothes, or perhaps it is still on your to do list? If you have already looked in your closets, you must have come across some (maybe a whole pile) clothes that you will no longer wear. We would like to encourage you to 'move these clothes on' and save them from an undignified and unnecessary end at a landfill site.
She had 70 skirts…
…yet she did not have anything to wear. How many times have you stood in front of your wardrobe and said: "I don't have anything to wear?" Do we really need all those seasonal pieces of clothing? This can be the topic for another discussion. However, let us find the answer to the question of what to do with discarded textile. First and foremost, the best decision is to not create any unnecessary waste. Maybe your friends, family, charity organisation might find them useful, or you can simply exchange them for something new at swap events that have also finally come to Slovakia (hurrah!). Then, there are pieces that you would use just as a rag in order to clean away dust in the house.
If the last case is true, or any other case, do not hesitate to use a recycling container for textiles!
The journey of discarded textile.
We are sure there are some recycling containers for discarded textiles, even in your close neighbourhood. These collecting containers are (or were) the property of one of three companies: Humana, Eco Textil or Revenge. The second company, originally from Poland, has concluded its business in Slovakia at the turn of the year. However, textile from Eco Textil containers has been emptied and shipped by other service companies, and they are beginning to use the "abandoned" containers themselves, and we hope this will remain their long-term focus.   
What happens to textiles that were thrown into a container? They are separated afterwards, and the most usable items find their way into second-hand shops to be resold (on average about 30%), a portion is sold to companies, that can use it as a raw material (10-30%) and the rest would ideally be sent to incineration plants, where it is used as an alternative fuel to create energy. It is obvious, that this provides for a functional and elaborate system – a viable business. And this was and still remains to be appealing to us, as it facilitates a form of circular economy!
Textile like you do not recognize it.
But we believe, you can get to know it! Many things can be created out of your old T-shirt. Maybe it can be reborn as a part of heat insulation for a house. In SK-Tex we know that textile is an excellent functional material, which will keep its properties even after being ripped to shreds on our production lines.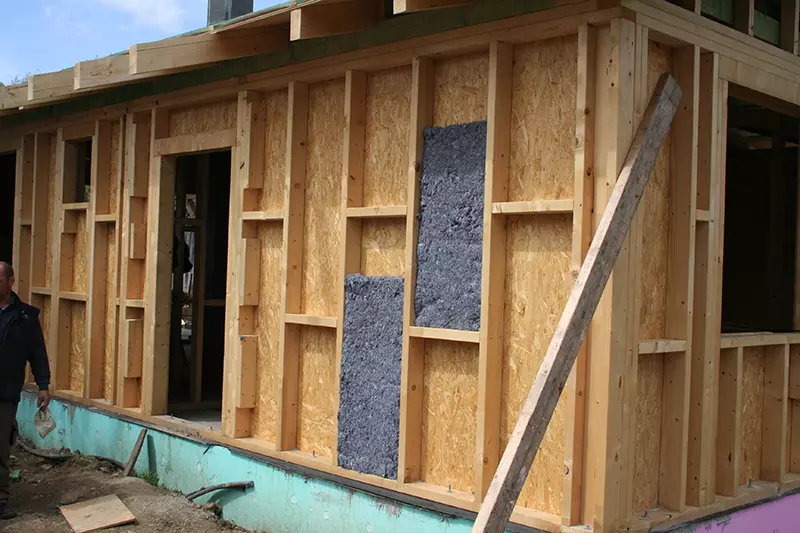 Textiles have a high capacity for heat accumulation, which is reflected in its insulation properties. It can preserve heat and afterwards emit it when its colder and vice versa: when heating up a house, it accumulates heat and afterwards it sends it back into the space inside the house. In other words – it manages to keep you warm; it can also manage to keep your house warm. Therefore, we decided to produce ecological insulation and to develop an alternative to mineral (glass) wool or polystyrene. And you might not have known, but the boot of your car for example has also got a cover of recycled textile.
It is always better to separate waste, then to not separate waste.
It is predicted that in Slovakia, from 50 up to 100 000 tonnes of textile waste is created yearly. If our production for processing waste could increase to 10 000 tonnes (we believe this will be possible next year), then we would be able to process only 10% of the overall value. Currently, we process about 4000 tonnes of waste, roughly 50% coming from "container" collections from multiple countries.
Presently, we have not found a more efficient system for using discarded textile, and we are fans of every activity that tries to prolong the lifespan of textile. If you throw textiles into communal waste, it will sadly end at a landfill site in Slovakia, or incineration plants in Košice or Bratislava.
Because most textiles contain synthetic materials, they will not decompose fast in landfill sites and there is a risk of creating more pollutants when coming in contact with other waste. Textiles may be light, but at the same time they take up a lot of space at a landfill site. Please think of this the next time you sort your wardrobe and throw your used textiles into general collection containers. If you would like to learn more about recycled products for the automotive or building industry or for gardening, please feel free to contact us at sk-tex@sk-tex.com
We look forward to hearing from you!